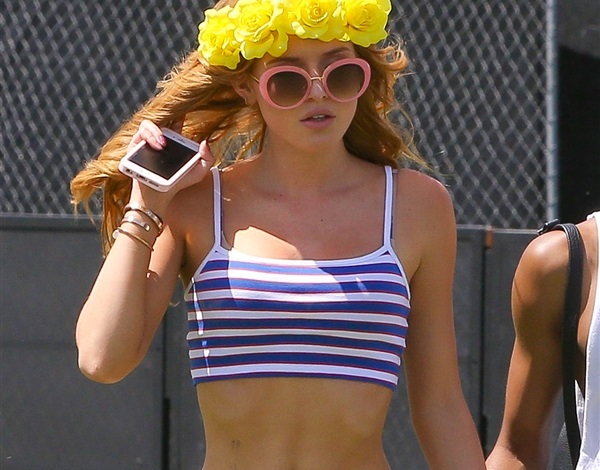 ---
17-year-old former Disney star Bella Thorne wins the Coachella music festival with an amazingly slutty crop top and white short shorts outfit.
Every year posers, wannabes, and whores gather in the Colorado Desert in California to attend "Coachella", a festival of crappy soulless mass produced music and corporate sponsorships which is ridiculously over-hyped on social media by lemmings desperate to portray their pathetic meaningless lives as exciting and interesting. Amongst this amalgamation of vapid nihilists, celebrity sluts briefly intermingle to get their photos taken by swarms of paparazzi and up their public persona (before being whisked off to VIP tents).
As you can see in the photos below, this year the clear winner of these celebrity attention whores was Bella Thorne, as her taut nearly nude nubile body was unrivaled amongst the famous attendees. No doubt the UCLA frat boys were tripping over themselves trying to ruffie Bella's drink and then finger bang her in a porta potty, before her publicist could call and tell her that she had put in enough face time.