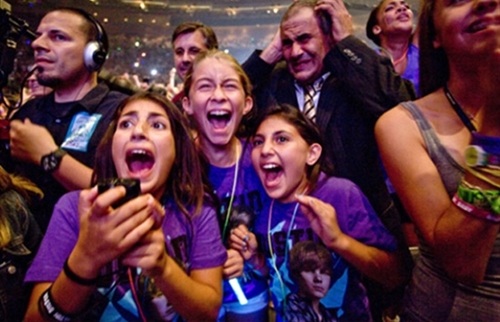 ---
Robert Johnson was your typical middle class all-American man, until the day he agreed to chaperone his 2 daughters and their best friend to a Justin Bieber concert. Little did Robert know that his life would never be the same.
The girls blasted Justin Bieber music in the car on the way to the concert. "I didn't think it was that bad" said Robert. "I figured it was better this Justin girl than some rap music talking about sex and violence."
Upon arriving at the Justin Bieber concert Robert and the girls hurried to take their seats. "The opening act had just come on and I was kind of enjoying myself. I had no idea of what was to come! How could I know!" Robert exclaimed.
Finally it was time for the main act. The house lights were dimmed and then a series of fireworks announced the arrival of Justin on stage and he began to perform, as you can see by Robert's reaction in the photo above he was not prepared, "I was not prepared! That music… Justin's voice… it haunts me until this day… What kind of loving God would allow sounds like that to exist I ask you!?"
Unfortunately when the concert ended the nightmare for Robert was just getting started. "The sounds, they haunted me." said Robert. When Robert arrived home he experienced what his lawyer is calling a "music induced psychotic episode".
Robert grabbed the family's beloved pet cat and boiled it alive in front of them. "I was just hoping that the screams of my family would drive out the sounds of the Justin Bieber concert, so I murdered Mr Muff Puff right before their eyes. I was desperate!"
Robert's wife and kids have left him and he is awaiting trial on charges of animal cruelty. Robert hopes his story serves as a lesson for others like him who may contemplate taking their daughters to a Justin Bieber concert. "If I have one piece of advice for father's of Justin Bieber fans out there it is this. Beat them… beat them hard."