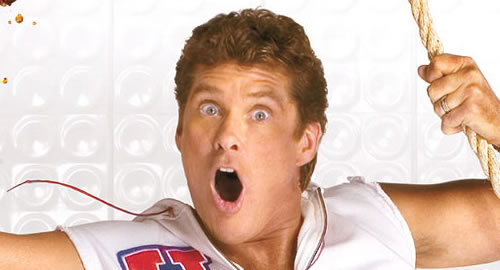 ---
David Hasselhoff's got talent, if you consider drinking life threatening amounts of vodka and living to tell the tale a "talent", which we do!
It's been reported that paramedics were called to his home in Encino, CA on Sunday where the America's Got Talent star had been on a bender for more than a day. He was then rushed to the hospital with alcohol poisoning. Supposedly, the star has been hospitalized more than five times in the previous few years due to alcohol poisoning.
We're guessing that Dave saw that three celebs had died recently (P. Swayze, Henry Gibson, and Mary Travers) and figured he was in the clear. But the Hoff would be wise to remember that Billy Mays broke the "law of three" celebrity deaths earlier this year, so he'd better be careful.
Normally we wouldn't give a flying camel turd about a celebrity with a drinking problem, but this is the Hoff! He was on friggen Knight Rider!
Clean yourself up, man! Please!