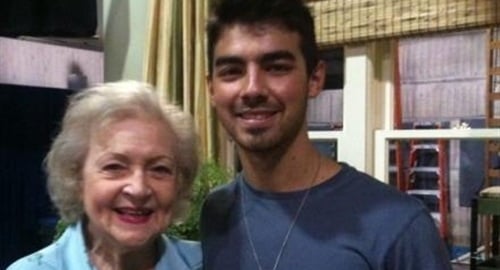 ---
Sources have confirmed that teen heartthrob Joe Jonas is dating Betty White.
Joe Jonas and Betty White were spotted getting cozy while having dinner at 4:30pm at a Cracker Barrel in Palm Springs. According to an eye witness "They seemed really into each other. Betty was rubbing her wool stockings up and down Joe's leg, I thought it was going to start a fire. She kept hand feeding him hard candies from her purse, and he was licking them up. It was disturbing"
Joe Jonas and Betty White met through mutual friends of his grandmother. Apparently there was an instant attraction when Betty White offered to take Joe Jonas' temperature rectally. She then regaled him with the tale of how back in St. Olaf, she was the deepthroat champion 5 years running. They have been inseparable ever since.