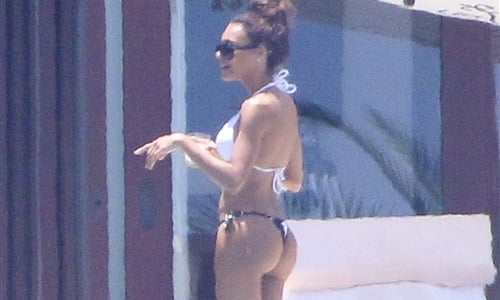 ---
Singing Mexican lesboqueer Naya Rivera from the hit Fox TV show "Glee" shows off her tight brown ass in a thong bikini in the photos below.
With rumors swirling that Naya Rivera was just fired from Glee after fighting with Christ killing co-star Lea Michele, these thong photos are clearly a ploy by her to find employment in the harem of a Muslim man. After reviewing these thong bikini pictures I'd say that is very likely to happen as Naya shows a lot of promise… as a toilet maiden.
Yes not only can Naya bend at the waist, but she appears to require very little calories to operate. She should have no problem finding employment scrubbing the toilets in a Muslim's desert palace. A job that is not only infinitely more fulfilling than working on Glee, but also features 100% less diva Jew coworkers.