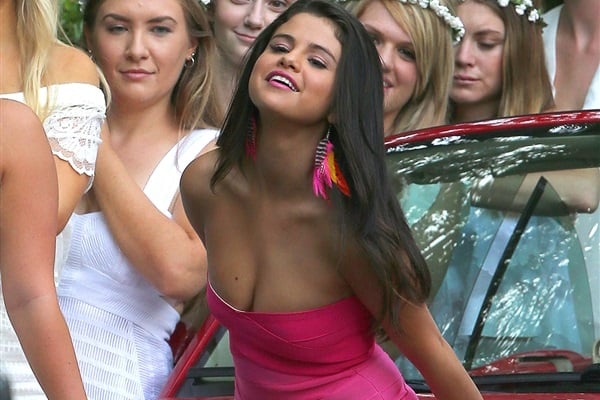 ---
Selena Gomez managed to cram her fat ass into a skintight dress in these behind the scenes photos from her new movie "Neighbors 2: Sorority Rising".
Of course it is not surprising to see that Selena Gomez has been cast as a chunky sorority girl in this new movie, for sororities are filled with brazen whores and are the closest thing the US has to harems. Although, instead of experiencing the unimaginable pleasure that can only come from servicing a Muslim's enormous manhood, sorostitutes have to make due with limp-dicked secret homoqueer frat boys.
Yes even though Selena looks like an overstuffed Mexican sausage in these pics, she will certainly portray a sorority girl well as she has the cock hungry gleam in her eye that you just can not teach. Let us hope that the textile integrity of her dress continues to fight this courageous battle of the bulge so that nothing pops out during filming and offends our pious Muslim aesthetic further.
To show how committed Selena Gomez is to this sorority girl character, after filming wrapped for the day Selena met with a few of the male crew members for one of her famous "motivation sessions". Here she is afterwards disposing of some of the evidence.