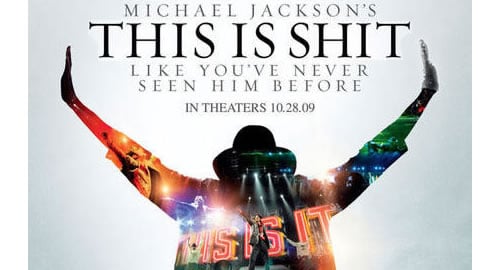 ---
Michael Jackson's new documentary, This Is It, premiers today, and so far audiences have been shocked by the film's many disclosures. Here are 10 of the biggest surprises.

Michael Jackson is the second cousin, once removed, of 1991 All-Star baseball player Danny Tartabull.
The song "Black or White" was originally titled "Me Ten Years Ago or Me Now," but producers were unable to find a way to fit the phrasing into the chorus.
Bubbles the Chimp administered Michael's fatal Propofol injection.
At least three of the seven new songs debuted in the film are just rehashes of old cereal commercial jingles. That said, "Dirty Count Chocula" and "Super Golden Crisp in the Mirror" are pretty catchy, and are expected to do well as singles.
Tito Jackson can play Guitar Hero like a motherfucker!

Michael admits that while he was a big fan of the Home Alone franchise, he didn't care for Macaulay Culkin's acting in Richie Rich.

Joe Jackson appears at the halfway point to deliver Michael a brutal beating with his belt. Afterward, Michael's dancing does improve, proving that Joe's still got it!
Michael's prostetic nose falls off a during the encore, revealing a portal to another, better world…and lots of pus.
An uncensored scene in which Jackson teaches a group of young boys to play "Hide the Salami," much to the chagrin of deli owner Abe Schwartzman.
Michael Jackson was a friggen weirdo!