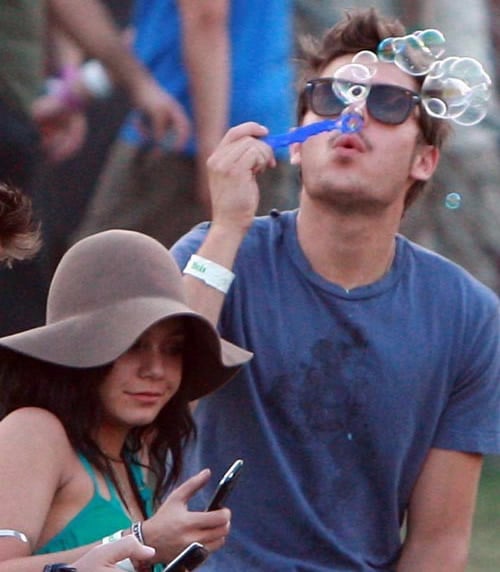 ---
Just when I think I've seen it all, Vanessa Hudgens and Zac Efron take it to a new low. The two were photographed smoking PCP at Coachella, a pagan music festival which is little more than a celebrity drug orgy.
As the picture above clearly demonstrates, Zac and Vanessa are taking a new form of PCP known as "bubbles," named after the large transparent orbs of smoke that form upon exhaling. Just moments after this photo was taken, Zac became enraged and began punching anyone within reach while Vanessa became almost catatonic, weeping silently while sitting in a puddle of her own urine.
Zac and Vanessa make me sick. They have to understand that they are role models and that this sort of behavior will be emulated by millions of children around the world. Before you know it, kids everywhere will be high on bubbles. Parents will watch in horror as their little ones transform into delinquents before their very eyes, rejecting Islam, roaming the streets beating homeless people to death and lighting the elderly on fire.