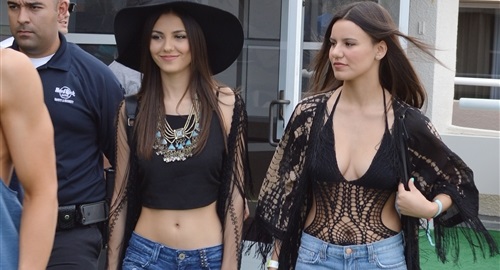 ---
Victoria Justice showed up for the 2nd weekend of the Coachella Music Festival flaunting her bare stomach in a crop top and long legs in jean shorts in the photos below.
Victoria wasn't alone in prostituting her sinful female body, as she brought along her 17-year-old sister Madison in a low cut tattered up swimsuit. Victoria Justice then ended up putting on her sister's swimsuit (in the last photo), after her own outfit (probably) got stained with so much seminal fluid.
It is clear from these Victoria Justice photos that Coachella is no place for us Muslim men, as we would certainly throw out our shoulders hurling rocks at all the whores that congregate their… oh and the music sucks.